Product Description
Jebao Jecod CBF Bio Pressure Filter 15000
PLEASE NOTE: The smaller filters do not come with bio balls, it is just the 12000 and 15000 filters that have this

Jebao are an OEM manufacturer. OEM stands for original equipment manufacturer, which means they manufacture products for many brands. This is why you often see many products that look the same from different suppliers, in fact they often are and have just been put in a different box with the suppliers name on but you will often end up paying twice the price for the branded product. Granted you may get a better instruction manual but is it really worth the price difference?
This multi stage pressure filter (filter only, you will need your own pump to push water through it) offers biological, mechanical and UV filtration to both clean the water and clear it of green water, with the added possibility of being buried due to it working under pressure (as opposed to gravity filters).
Features:
Complete with large sponge media, and integrated UV lamp
5 meters of outdoor cable (please note there is no plug fitted as this contravenes certain building regulations)
Back flush system making the cleaning of your filter trouble free
Cleaning indicator lets you know when the filters need cleaning
Inlet/Outlet hosetails should be cut to size (12000/15000 models take 25/32/40mm hose)
Multi-stage biological and mechanical filtration stages provide maximum pond filtration.
Large foam surface area provides increased filtration and beneficial bacteria growth.
Maintenance indicator shows when cleaning is required.
Back Flush facility for easy maintenance.
Can be buried to lid for concealment.
UV light incorporates quartz glass to ensure optimum performance.
Complete with media (the 12000 and 15000 filters also contain bio ball media)
The maximum flow rate for any filter generally speaking, is half the volume of your pond per hour.
Pond capacities quoted are generally for lightly stocked ponds in shaded positions. As a very general rule of thumb, a filters' capacity is halved if you have a pond in full sun or have heavy fish stocks and is reduced further if you have a pond in full sun much of the day and heavy fish stocks, so please bear this in mind when choosing the right filter for you. Our specifications quoted below are guidelines only as each pond is unique, but when in doubt we would always urge you to buy the next model size up.
How It Works
STAGE 1 - Water is pumped in to the filter (pond pump not included) and runs through coarse and fine filter foams to extract floating debris (mechanical filtration).
STAGE 2 - Bioloigcal filtration starts when the water reaches the bottom of the filter where the bio balls provide a habitat for beneficial bacteria to grow. These bacteria are vital for converting harmful amonia and other toxins into healthy nitrates.
STAGE 3 - Finally as the water is passed upward through the centre of the filter, it passes over a UV clarifier where the UV lamp (included) kills the algae which causes green water, before being returned to the pond.
As the water leaving the filter is under pressure, it can be sent uphill to, for example, a waterfall if required, giving an added advantage over the traditional gravity box filters.
BACK - FLUSH Facility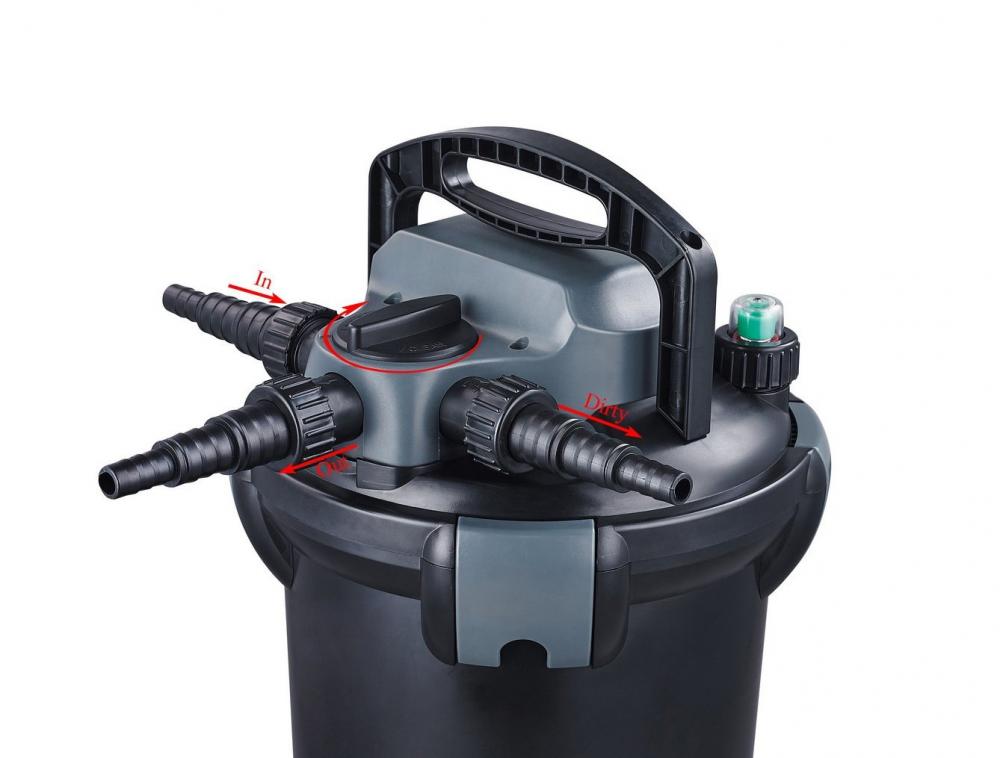 Jebao have designed this filter with ease of cleaning in mind. When the cleaning indicator shows red (instead of green) the filter needs cleaning. Simply twist the knob on the top to CLEAN and water will exit the filter via the 'Dirty' Water Outlet.
TOP TIP: Attach a hose to the waste outlet and put the water over your garden, extremely good for plants!
Cleaning CBF filter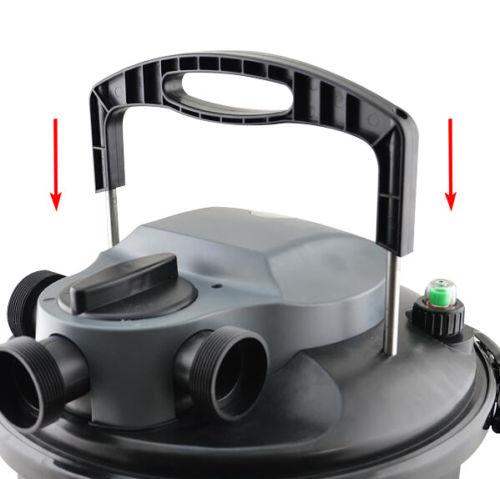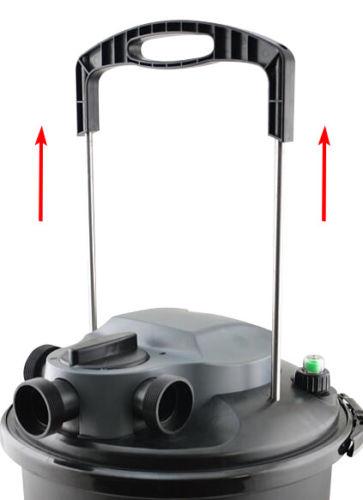 The Easy-Clean function (actuate the cleaning handle and flush with water) allows easy cleaning of foam filters, UVC unit and UVC water housing.
How to proceed:
1) Shut off the water pump
2) Turn the function switch (5) counter-clockwise to "Cleaning " (41).
3) Turn the pump back on
4) Vigorously pull up the cleaning handle (3) several times, then push the handle down against the stop ("pumping"action).
The foam filters will be rinsed by this action. As soon as only clean water appears in the transparent hose connector (20), shut off the pump, then turn the function switch (5) counterclockwise to "Filter"
The UVC unit and the UVC water housing are flushed
Specification:
| | | | | | | | |
| --- | --- | --- | --- | --- | --- | --- | --- |
| Model | Pond Size (Shaded, Light Fish Stocks) | Pond Size (Full Sun, Light Fish Stocks) * | Pond Size (Full Sun, Heavy Fish Stocks) * | Max Flow (Guide Only) | UV Rating | How Lid Attaches | Dimensions (W X H) |
| CBF-4000 | 4000 litres | 2000 litres | 1000 litres | 2000 LPH | 9w | Using clips | 278mm x 438mm |
| CBF-6000 | 6000 litres | 3000 litres | 1500 litres | 3000 LPH | 9w | Using clips | 343mm x 440mm |
| CBF-8000 | 9000 litres | 4500 litres | 2250 litres | 4000 LPH | 11w | Using clips | 343mm x 500mm |
| CBF-12000 | 12000 litres | 6000 litres | 3000 litres | 6000 LPH | 24w | Using a clamp ring | 413mm x 491mm |
| CBF-15000 | 15000 litres | 7500 litres | 3750 litres | 7500 LPH | 36w | Using a clamp ring | 413mm x 591mm |
* Guideline sizes only
Product Videos
Custom Field
Product Reviews