Product Description
Cloverleaf Blanket Answer – Effective Pond Blanketweed Treatment
Blanket Answer is the best selling blanketweed treatment on the market having been voted the number one treatment for this perniquous pond string algae in a survey of Koi Magazine who commented "There was an overwhelmingly positive response for Cloverleaf's BLANKET ANSWER".
How to use Blanket Answer
Simply add the required dosage of Blanket Answer to a bucket of pond water and mix thoroughly. This mixture is then poured evenly through out the pond. At first the pond water will turn milky white in colour but this will clear after 5 days. Cloverleaf recommend that Blanket Answer is used when the water temperature is above 10 C and that your pond has suitable aeration especially if you keep Sturgeon or Orfe. Usually one treatment of Blanket Answer is enough but if you have very persistant blanketweed problems the pond can be re-treated with no ill effects.
Benefits of Blanket Answer
Blanket Answer will not harm fish or plants.
Blanket Answer does not affect filtration or filter bacteria.
Economical in use, 10g treats 125 litres.
No need to switch off UV's.
Cloverleaf help line number: 01277 366002.

200g bottle will treat ponds up to 2,500 litres, 550 gallons.
800g bottle will treat ponds up to 10,000 litres, 2200 gallons.
2kg tub will treat ponds up to 25,000 litres, 5500 gallons.
4kg tub will treat ponds up to 50,000 litres, 11000 gallons.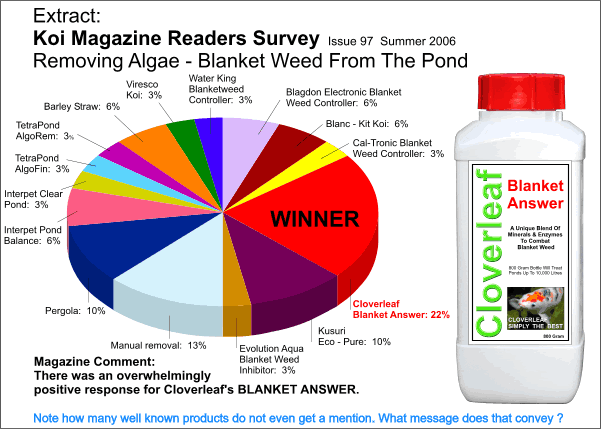 Product Videos
Custom Field
Product Reviews